Hello, TPE members!

I am very excited to be joining the TPE roster as a new addition to the site's team of MTT pros. I really look forward to seeing how people react to my training content, and being able to engage with TPE members on the forums – I've been a member on the site for quite a while now, so being able to make the transition from member to pro is a really big step forward for me.
I want to give you guys an idea of who I am as a person, and as a player, so without further ado let me launch into a bit of shameless self-promotion. I'm 26, I'm from Southampton in the United Kingdom, and I've been playing online poker since 2009. I turned professional in January 2012. Before poker I was a student – I studied French at the University of Southampton from 2005-2009, and followed it up with a Master's in Transnational Studies in 2009-2010. One of the reasons I'm so excited to join TPE is because I love teaching, and I've been involved in teaching on several occasions professionally. I was a teaching assistant at a school in France during my year abroad in 2007-08, and I later did some more work at my old University as a mentor and academic advisor for international students arriving at the University from abroad.
During my time at University, I began working and volunteering with a charity organisation named AIESEC, which promotes the development of youth leadership and cultural exchange on a global basis. While working with AIESEC, I was fortunate enough not only to work with the organisation and its members across the UK, but also to take on a full-time role working to establish AIESEC just across the water in the Republic of Ireland. I also had the opportunity to work in several other countries on a short-term basis – I organised a youth conference in Russia, and taught English in an American school in Turkey. While working out in Ireland, I also began to take online poker more seriously – partly because volunteer work doesn't pay very well!
It was fairly quickly that I worked out I'd be making a lot more money, as well as enjoying life a lot more, if I gave professional poker a go. I made the decision to leave my job in Ireland and move back to England to play MTTs and MTSNGs full-time. This would also help me with my long-term career goal of getting into the business of filmmaking and screenwriting, since it would give me the financial sustainability and freedom to do as much writing as possible. I'm really passionate about film, TV, comic books and all other kinds of storytelling, and a big part of why I find poker so appealing as a career is because it can be a stepping stone to all kinds of other things. I believe it's very important to ultimately have some kind of goal beyond simply making as much money as possible, otherwise poker really does start to dominate your life in an unhealthy way.
At this point, let me back up a little and explain how I got into poker, the second part of the story. Rewind to 1st January 2009, and a typically hungover New Year's Day spent sitting around with some of my University friends. One of them suggested, purely on a whim, that we go buy a set of poker chips and have a £5 home game that night – as they say, after that the rest is history. It wasn't the first time I had ever played poker (I did play one game in a neighbour's kitchen about two years before that) but it was certainly the first time I'd taken it seriously. It's one thing to play against a group of people you don't really know, but it's quite another when you're playing with friends and everyone is very competitive!
Soon enough, my own competitive nature and desire to prove to everyone how smart I am (isn't that why we all play? I mean, come on…) got the better of me, and despite my early statements to the contrary – "I don't think I'll ever play online poker for money or take it too seriously" – I was learning all I could about the game, and following the lead of a roommate of mine (who had much better instincts for the game than I did) by depositing money on PokerStars.
I started off making small deposits, since I was effectively broke – I was playing $1 STTs and 2NL cash games for the most part. I lost a few $10 deposits, until the point where I started to understand the basics and finally became a winning player. It's one thing being a winning player, though, and another thing actually winning. My problem was that I could afford a bankroll – I didn't have the patience to build up from the very bottom, so I was caught between playing microstakes MTTs and trying to bink off a $1k score or more, and playing microstakes cash for which I wasn't even adequately bankrolled. I was playing more and more tables, and soon I was playing as many tables of 5NL or 10NL as my bankroll would allow.
This inevitably led to a huge tilt problem whenever I lost a buyin, and soon enough I was busting small deposits pretty regularly. I didn't have that much money to actually deposit, which kept my losses to a minimum, but I was certainly not playing optimally since losing one hand used to set me off. Even at my most tilted, though, I have never broken anything in anger – this is a record that still stands to this day. I rarely tilt these days, so I would like to think that it's almost impossible that I'll ever throw my mouse against the wall or pound my keyboard in half as a result of a bad beat.
Once I moved to Turkey for a few months in late 2010, I had a little more money to spare, so I deposited a little more. I was lucky enough to bink my first $1k score in November 2010, for 5th place in a huge $5 MTT that had around $5k up top. I hadn't had that much money in a long time, so I immediately cashed almost all of it out and decided that once I had enough to play with again, I'd become an MTT player.
In January 2011, I was broke and looking for a job. I decided to make some applications to backing groups on TwoPlusTwo, so that I would at least have something to do with my days. In the end, I was accepted to Team Mori, a low-stakes MTT stable run by Mickey 'mement_mori' Petersen, now a member of Stars Team Online. Sadly, he wasn't very actively involved, but the stable itself was a thriving group of 20-30 low-stakes grinders. During my five months with the stable (it was shut down after Black Friday), I made several more $1k scores, and even binked off my first $3k score in a $5 turbo event on Stars. Here's my graph from that early period of 2011:
After treading water with another stable during the months immediately following Black Friday, I was then able to get a deal with the team I currently play for, which at the time was run by Matt 'Matt238' Vance and Brian 'ZBTHorton' Horton. I started out playing $2/180s for them while working out in Ireland, and before long I was grinding a solid mix of 180s and MTTs at a low abi, even though my game was still relatively weak. Here's my graph for late 2011, before going pro:
Once I left my job in Ireland in December 2012, I decided to start grinding MTTs and 180s full-time. I had it all worked out, how much volume I was gonna get, how much I was gonna make, etc etc. I even started a thread on TwoPlusTwo to track my progress towards making $100k in 2012:
http://forumserver.twoplustwo.com/174/poker-goals-challenges/100k-profit-2012-come-hell-high-water-1146523/
But as you can probably imagine, it wasn't that easy. I made some poor game selection decisions, had all the wrong priorities, played too many turbos, and above all, just ran really bad. I ended up working full-time for 10 weeks in another job to make sure I had enough money to get by. Then, eventually, in late November 2012, just as I was about ready to give up poker and find something else to do with my life, I binked the Stars Big $109 for just over $20,000. This put me up to +$43,000 for the year, and although I was a long way short of my $100k goal, it was definitely the turning point for me. It gave me the self-confidence to know I could make money playing MTTs professionally, and above all, it gave me enough money to get through the first few months of 2013 with no real financial worries. Here's my 2012 graph overall (spot the huge bink…):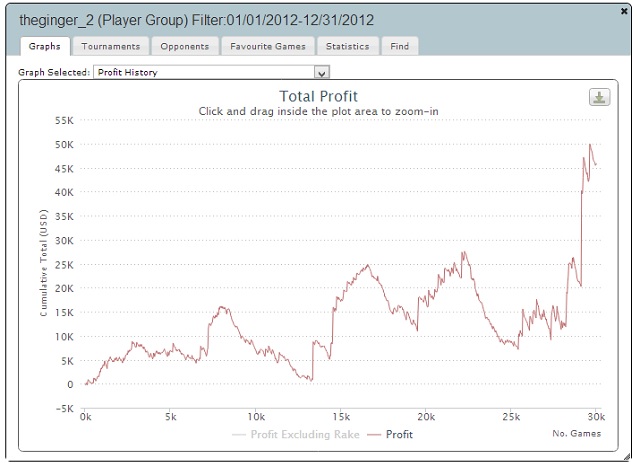 So, I went into 2013 with a renewed optimism and a determination to improve my game and run good. The first month or so was nothing special, but after that it seemed to be a non-stop festival of rungood. I chopped the Hot $75 for around $17k in early February (I actually chopped it again last weekend for $10.4k – bragaments), got 3rd in the Big $162 for $16k in March, and then managed to overcome my lack of mixed game experience to win two FTP MiniFTOPS events in April ($26 NL Irish and $55 HORSE), as well as final tabling two more events in Limit Hold'em and Rush PLO, getting 9th and 2nd. I also got 11th in the two-day $215 event (which was a bit gutting, as it had $96k up top), and 34th in the Limit O8. All these events got me points on the MiniFTOPS leaderboard, which I ended up shipping with the highest single-series score in MiniFTOPS history. For winning the leaderboard, I was awarded a custom FTP avatar (which is still on the way) and a package of $11k in FTOPS tickets, allowing me to freeroll my way through almost the entire FTOPS series that just took place last week. You can read about my past progress in my 2013 TwoPlusTwo thread here:
http://forumserver.twoplustwo.com/174/poker-goals-challenges/f-goals-its-time-crush-some-mtts-1280751/
The rungood didn't stop there – in May, I final tabled a $109 SCOOP event (I won't spoil the finish as that's the subject of my first video series for the site). In June, I shipped the PartyPoker Sunday $250k guaranteed for around $42k, by far my biggest score to date. I moved into a new apartment in July 2013, and on my first Sunday in my new place, I shipped the Turbo Multi-Hundo on FTP for $13k. That brings us to right now – or, at least to my Hot 75 bink from last weekend – and my arrival to the TPE roster. Here's my 2013 graph to date (N.B. I've never hidden or reset my SharkScope, and I never will – some stats are missing because certain sites block SharkScope these days):
I'm very grateful to fellow TPE pro and #TeamFoldTo2nd member Danny 'DannyN13' Noseworthy for recommending me for the site, and I'm very grateful to Killingbird, RonFezBuddy, Ttwist, and of course the legend Bigdogpckt5s, for giving me the opportunity to join the team. Being a TPE pro is definitely the fulfillment of one of my biggest poker goals, and while I don't intend to be a pro poker player all my life, I hope my instructional videos will leave a lasting impact on the games of many of the TPE members.
I'll be posting TPE blog updates weekly, and I'll be as active on Twitter as I can. You can follow me @theginger45 for poker updates and all kinds of other random musings. I'll also be hopping onto the TPE forums regularly, so I hope I'll be able to add constructive input to the discussions in there. I look forward to meeting all of you TPE members very soon!
GL guys,
Matt
theginger45